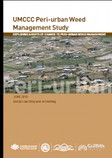 Rural lifestyle landowners occupy peri-urban areas—the non-urban landscape close to urban or regional centres. These landowners do not derive their living directly from their properties as they have chosen these locations essentially for lifestyle purposes. Because the rural lifestyle is increasingly popular, the landowners are key stakeholders in future landscape management.
The management of invasive species is of increasing concern to land managers. National and state listed weeds are a particular threat to agricultural production and biodiversity. This study has confirmed that rural lifestyle landowners are often limited their ability to respond to weed issues on their properties. These limitations are due to a lack of awareness, lack of knowledge of the problem, different value sets from those of traditional rural landowners, and a lack of time and resources. It has, however, been noted that this new wave of rural lifestyle landowners tend to be typically well-educated, have high incomes, and value natural landscapes.
To ensure that future weed management strategies are successful in this new and changing rural landscape, management agencies will need to fully
engage this critical group of emergent landscape managers.
Download the study (PDF 1.47MB)