Signage in Murrumbateman.
Full project title:
Exploring agents of change to peri-urban weed management.
Rural residential living is now an integral part of the Australian Landscape. The UMCCC in partnership with Griffith University has undertaken a social research study in the Upper Murrumbidgee Catchment with funding through the Defeating the Weed Menace Research and Development Program. The Exploring Agents of Change to Peri-urban Weed Management research targeted rural lifestyle landholders, to determine the drivers to land use change in relation to invasive weeds.
Preliminary results indicate that most rural lifestyle landholders wish to manage their properties sustainably and have an interest in improving their knowledge about sustainable land management including weed control. The equestrian community has also been highlighted as an underutilised resource for the dissemination and promotion of sustainable land management, particularly weed management, messages.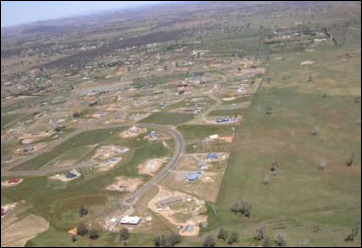 Aerial photograph of peri-urban estate at Murrumbateman.
For more information on this research see:
"The new stewards of the peri-urban landscape" D. Low Choy & J. Harding, Thinking Bush Thinking Weeds, Australian Government Land and Water Australia, pp 5-8
» Land and Water Australia.
The final report will be available shortly. Interest in obtaining a copy of the report can be directed to the UMCCC.
Rosemary Grant, Rural Reporter from ABC Local Radio, Northern Tasmania interviewed Jo Harding on the research. Listen to the interview (with an introduction by Sarina Locke, Rural Reporter for ABC Local 666 Radio Canberra) by download the MP3 file (4.6MB).