Full project title:
Refining and implementing a willow management srategy for the Upper Murrumbidgee Catchment.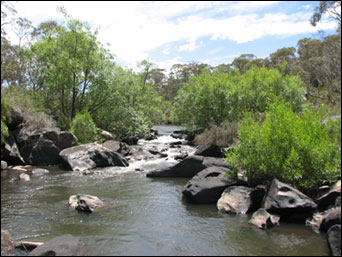 Build up of crack willow (S. fragilis) at the head of gorges along the upper Murrumbidgee corridor near Adaminaby.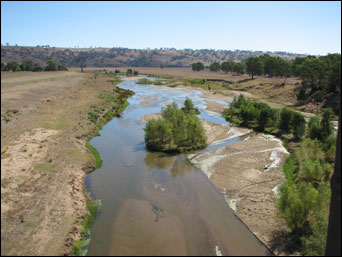 Black willows (S. nigra) on sandbar at Taemas Bridge over the Murrumbidgee.
The aim of this project is to:
Review current willow removal methods in the UMC.
Review long term maintenance approaches, implications and costs.
Examine successful treatment methods used elsewhere and assess local suitability.
Update current knowledge of biology of the UMC willow population.
Monitor the impacts of the willow sawfly; map the extent of the sawfly population and its spread.
Use community based mapping and monitoring to refine awareness of the impact of willows on water quality and quantity.
Map current UMC willow infestations and areas at risk. River based mapping undertaken by rafters using established GPS techniques. Mapping will be extended to include the upper Shoalhaven river.
Develop a better understanding of the history of the introduction and spread of willows in the UMC using a available documentation.
Collaborate with stakeholders through workshops and consultaiton.
Incorporate findings into updated and revised UMC Willow Management Strategy.
Develop guidelines and information material eg. fact sheets, displays, for willow removal appropriate to the range of landscape and social settings.
Contribute to sub-catchment willow management plans.
Encourage local government to address willow managment through LEPs and ACT government to incorporate willow management into LMAs.
Develop four action plans that support continued strategic willow removal. Initial targets would include follow up on S.nigra control work, control of seedlings and outlier populations especially in alpine and fire affected areas, willow removal where high riparian impacts are occurring.
The Willow Management Strategy was released on 11 August 2010 and is available. See Publications.