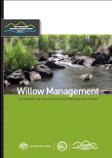 From the foreword to the Strategy by Drew English:
There is a strong history of willow management in the upper Murrumbidgee — many of the accepted strategies and techniques began or have been tested in the region. An early 'Willow Warrior' in this region, Kurt Cremer, spent much of his later life observing, mapping and developing some of the management techniques that are included in this strategy.
The work that Kurt began personally has been carried on by the Upper Murrumbidgee Catchment Coordinating Committee — documented and extended by the development of a formal position, successful application for funding, and the appointment of two project officers during the life of the project to date.  Tom Nilsen began the role and Douglas Kerruish has completed the writing of this strategy.
Review by Molonglo Waterwatch Coordinator, Dr Stephen Skinner:
Yet another willows document ... but this one is different. The scene is set and a little historical background is added. Then there is a natural history of willows in eastern Australia and the behaviours that make them weedy. The byzantine nature of willow identification is presented well. The resourceful anatomy and physiology of the willow is summarised clearly, and the disruption this causes in Upper Murrumbidgee riparian areas is well documented. In all, Chapter 3 is a great read both as a presentation of Salix species as what they are, and as a clear exposé of what they can and will do in our waterways when we let them. There is an outline of the mapping and the strategy to control the spread. The last chapter presents the status of willows in each of the 9 catchments that make up the Upper Murrumbidgee. The reader is engaged with both local 'what needs to be done' and 'who else has similar problems' in a readable way with plenty of meaty information. The reference list is comprehensive. Read this willows document! You will come away well informed and with realistic expectations about willows management. Well done Doug and all those who contributed!
The Strategy is available for download in 5 parts:
Part 1 (pdf 5.06Mb):
Executive Summary
Chapter 1: Introduction
Chapter 2: Developing the Strategy
Part 2 (pdf 5.59MB):
Chapter 3: Willows and their Management
Part 3 (pdf 4.41MB):
Chapter 4: Willow Mapping
Chapter 5: The Strategy
Part 4 (pdf 5.47MB):
Chapter 6: Management Recommendations and Priorities
Part 5 (pdf 2.62MB):
References and Further Reading
Appendices