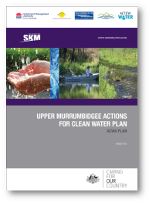 The Actions for Clean Water (ACWA) Plan is a collaborative, cross-jurisdictional venture involving the Murrumbidgee Catchment Management Authority (CMA), ACT Natural Resource Management Council, Upper Murrumbidgee Catchment Coordinating Committee, Upper Murrumbidgee Waterwatch and ACTEW Water.
Turbidity arising from devegetation, mining, urban development and agriculture over many years, exacerbated by drought and bushfire in the last decade, is of concern for urban water supply, irrigators, rural landholders and tourism operators. This commonality of concern, albeit for differing reasons, provided the basis for a collaborative approach to planning for preventive and corrective action across the catchment.
The ACWA Plan identifies strategies to improve surface water quality and reduce turbidity in the upper Murrumbidgee River catchment. It provides a plan of actions over one, three and ten year time frames.
The Plan covers a range of approaches including on-ground works, education and promotion, plus policy and program development by private sector and government organisations and individuals.
The Plan identifies and ranks major point sources of turbidity. It details interventions to mitigate turbidity generation from them.
Turbidity arising from diffuse sources through less than ideal land management practices are also addressed. The Plan details interventions to ameliorate these practices where possible and thus reduce turbidity and other negative water quality impacts.
The collaborative nature of the ACWA project is reflected in extensive involvement of natural resource management stakeholders in the formulation of the ACWA Plan. An ACWA Advisory Group was established and actively engaged. It comprises  representatives from all tiers of government, non-government organisations, scientists, community groups and landholders. This group of experts has actively participated in the development of the Plan. They contributed invaluable additional
scientific evidence, stakeholder information, spatial analysis and corporate memories as well as providing major input to fields assessments. Importantly the Advisory Group will continue to be involved in the implementation of the Plan and monitoring its impact.
Table of Contents
EXECUTIVE SUMMARY
3
TABLE OF CONTENTS
4
LIST OF FIGURES
5
LIST OF TABLES
6
INTRODUCTION TO THE ACWA PLAN
7
PART A – ACWA STRATEGIC PLAN
11
 
1. PROJECT RATIONALE
12
 
2. STRATEGIC CONTEXT
22
 
3. TURBIDITY GENERATION
24
 
4. PROCESS FOR DEVELOPING THE ACWA PLAN
26
 
5. ACWA MANAGEMENT ACTIONS
35
PART B – ACWA TECHNICAL REPORT
52
 
1. INTRODUCTION
53
 
2. CATCHMENT CONDITION
54
 
3. CONCEPTUALISATION EROSION PROCESSES
60
 
4. METHOD
69
 
5. RESULTS
82
 
6. SITE SPECIFIC DETAILS
85
 
7. PRIORITY SITES FOR MANAGEMENT INTERVENTION
150
APPENDIX A- PRIORITISATION REPORT
171
APPENDIX B – LITERATURE REVIEW
219
APPENDIX C – WORKSHOP OUTCOMES
253