Weed Alert: Coolatai Grass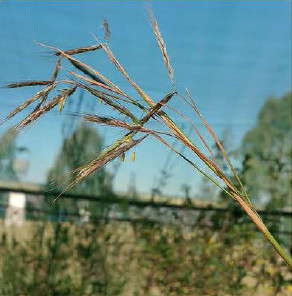 Report all sightings of Coolatai grass. It is a threat to the region's biodiversity.
Coolatai grass is an invasive drought, fire and herbicide tolerant tussock forming perennial grass.
It has become a major invasive species in northern New South Wales (NSW) and southern Queensland, dominating pastures over a range of soil types and conditions. An infestation has been discovered just south of the ACT.
» read more
Land for Wildlife - Free property assessments
Kosciuszko to Coast (K2C) have recently been successful in receiving funding to conduct 'Land for Wildlife' (LFW) assessments in the K2C and Kanangra-Boyd to Wyangala (K2W) Regions.
» read more
Woodland Flora
FOG highly recommends Woodland Flora, a Field Guide for the Southern Tablelands (NSW and ACT), published in 2015.  It is an easy to use field guide for woodland ecosystems by Sarah Sharp, Rainer Rehwinkel, Dave Mallinson and David Eddy. It covers 440 species found in woodlands in the Southern Tablelands. Many of these species also occur in other habitats and in other regions and states. Every page has descriptions and one or more photos to help identify each of the species. This is a companion book to Grassland Flora.
» read more
Jewels in the Landscape - New Publication
Dear All
I'm sure that Jacqui Stol has reached out to you all, but just in case, please promote the availability of "Jewels in the Landscape" to your stakeholders.  (FYI I have made hardcopies available to the Yass and Bowning/Bookham Landcare Groups)
It will be a good resource for anyone (landowners, landcare groups, Green Army supervisors & trainees, students) working in Box-Gum Grassy Woodland landscapes.
https://publications.csiro.au/rpr/pub?pid=csiro:EP154278
Kym Nixon | Natural Resource & Sustainability Officer | Yass Valley Council
PH: +61 (0)2 6226 9207 
E: kym.nixon@yass.nsw.gov.au  | W: http://www.yassvalley.nsw.gov.au
45th Black Mountain spring wildflower ramble
8 Oct 2016 - 9:30am
Celebrate spring on beautiful Black Mountain with a social ramble for wildflower lovers in the tradition established by Nancy Burbidge, and continued by George Chippendale. Discover the surprising diversity of tiny orchids, bush peas, wattles and billy buttons. The spring pattern of flowering timing and abundance vary with the weather. Friends of Black Mountain welcomes everyone; experts or new to discovering the diversity. We plan several guides, and helpers, taking different directions on easy bush tracks.  Some relevant books will be for sale
» read more
FoBM Wattle Walk & Talk
10 Sep 2016 - 9:00am
Enjoy a Walk among the Wattles on Black Mountain with local plant ecologist, Michael Doherty to see some Acacias commonly found on Black Mountain, including Acacia dealbata and Acacia buxifolia. We will also learn about how Acacias cope with fire and drought. The walk will mostly be flat to undulating, but with a few steeper sections later on in the walk.
» read more
Pages